Home Makes & Models Restoration Washers Connectors Hoses Non Return Valves Pressure Test Valves Oiling Tyre Pressure Gauges Sales Vintage Car Accessories Contact
WELCOME!
If you like vintage foot pumps as I do, you'll love this site!
You can get in touch by emailing enquiries@vintagepumps.co.uk.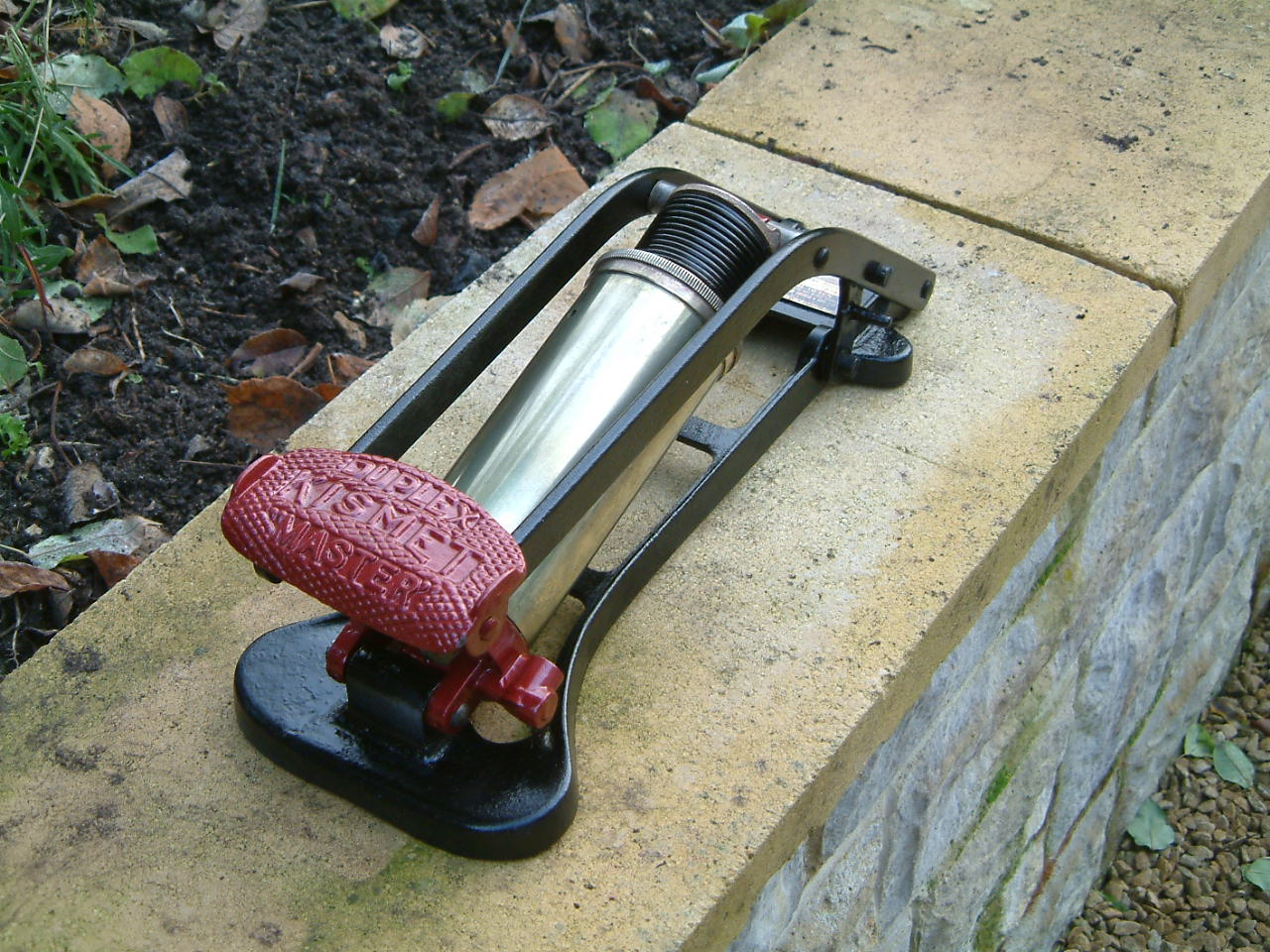 If you'd like to buy any of the pumps or accessories, or want me to restore your old pump to showroom condition, or just to get it working, dont hesitate to CONTACT ME ! I am also happy also to give advice- based on years of experience and learning about pump designs by taking them apart and restoring them. I can also put you in touch with resources for dating them and obtaining original patents, where these are still available.
Why not have a look at my testimonials page to see what customers have said about the services I offer. I aim for ( and achieve!) 100% customer satisfaction!
REPLACEMENT WASHERS - I ALSO HAND MAKE AND SELL WASHER KITS IF YOU ARE INTERESTED IN RESTORING YOUR OWN PUMP...I PROVIDE THEM FOR ANY PUMP. THE KITS COME WITH FULL INSTRUCTIONS.
RETURN SPRINGS - AFTER MANY REQUESTS FROM PEOPLE WITH BROKEN SPRINGS, I'VE HAD VARIOUS SETS OF SPRINGS MANUFACTURED TO ORIGINAL DESIGN SPECIFICATIONS. I'VE GONE FOR FAIRLY LARGE PRODUCTION RUNS TO REDUCE UNIT COSTS. PLEASE CONTACT ME IF YOU NEED A REPLACEMENT SPRING - COMPRESSION OR TORSION. I HAVE MOST OF THE COMMON ONES IN STOCK - INCLUDING SUTTY, AERITE, WAD, KISMET DUPLEX, KISMET BABY, KISMET JUNIOR, H&D, ETC.ETC. IF I DONT HAVE YOUR SPRING IN STOCK I CAN EASILY GET YOU ONE. MY PRICES ARE ABOUT HALF OF WHAT YOU WOULD PAY TO GET A ONE-OFF MADE.
PROGRESS UPDATE ON BOOK (JULY 2013)
After requests from many customers and pump enthusiasts, I am writing a book on vintage pumps. The overall planning has been completed and writing is well advanced.
It is entitled
'VINTAGE BRITISH FOOT PUMPS 1900-1950 : THE MAJOR MAKERS
Historical, Technical and Maintenance Details'
It will cover around 50 pump models from the main British makers and give a 3-4 page
illustrated techical/maintenance sheet on each of their models. A brief historical overview of each maker will also be included together with several appendices on technical aspects of generic relevance across a wide range of pumps.
FOR A PDF FILE GIVING THE FULL CONTENTS LIST AND ILLUSTRATIVE COMPLETED SECTIONS PLEASE SEND AN EMAIL TO: enquiries@vintagepumps.co.uk
If you are interested in getting a copy of the final book, please email me to register interest. This will help me determine the initial print run and price.
IF YOU WISH TO OBTAIN AN EARLY COPY OF A PARTICULAR TECHNICAL/MAINTENANCE SHEET OR APPENDIX FOR YOUR OWN PUMP, I AM ALSO DISTRIBUTING THESE INDIVIDUALLY AS PDF FILES PRIOR TO PUBLICATION AT £2.50 EACH. CLICK HERE to see what's available for purchase at the moment...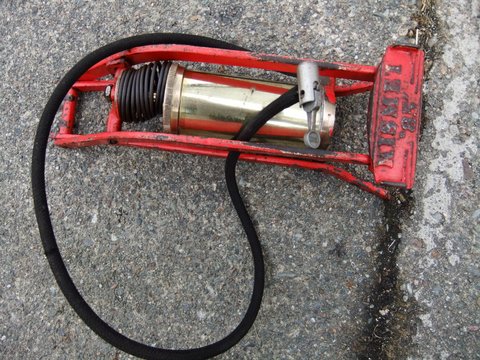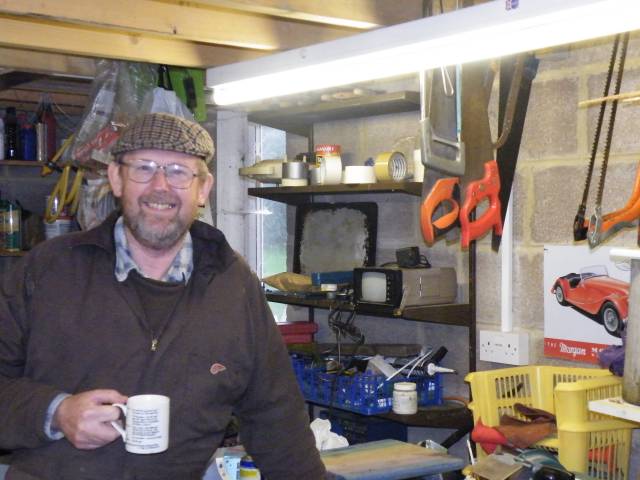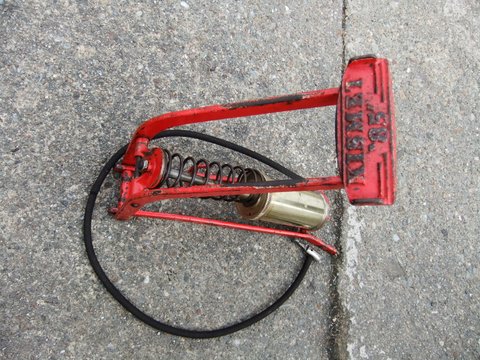 Iím a keen enthusiast for old British car foot pumps Ė dating from the 1900ís to the 1950ís. My interest started in the 1950ís, when I used to help my father in his garage using an old 1920ís British Goodrich to blow up the tyres on his Austin 7. I inherited this pump from him on his death, and since then Iíve built up quite a collection of Goodrich, Wood Milne, Kismet, Dunlop, Aerite, Sutty etc. etc. and many other names as well. I overhaul and mend them, keep some for my own collection and sell others on.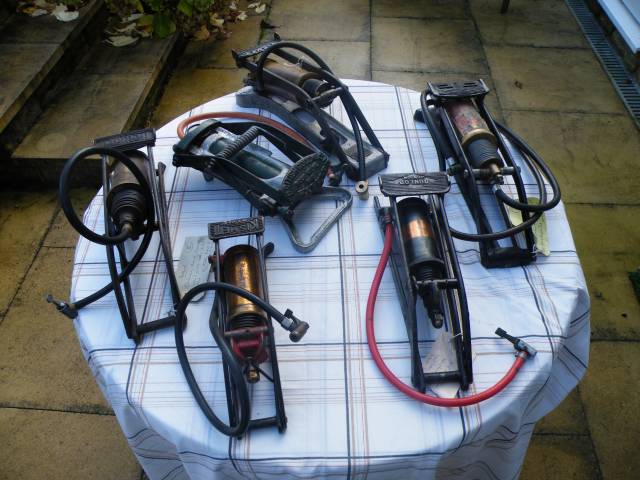 These old British pumps were invariably built to a high, heavy duty, quality standard, with bolts, washers and split pins so they can be properly dismantled and overhauled Ė unlike the modern rubbish which is usually held together with bits of plastic and bent tin. When properly maintained these vintage pumps will last another lifetime or two and are a practical working tool for regular use. Their smooth, silky action and stability strike a real contrast with modern offerings, which are often unstable on rough ground and can collapse and damage ankles due to their under-design. These old pumps are also a marvellous accessory for anyone with a vintage or classic car. Many are also very beautiful pieces of engineering, made of brass, steel and cast iron and look great for display in the garage or the living room. Iíve done all these things with them! They also make wonderful birthday or Xmas presents - ladies take note!
HATTERSLEY & DAVIDSON 'MULTISTAGE' FOOT PUMP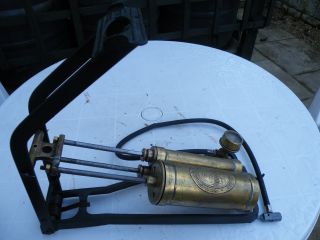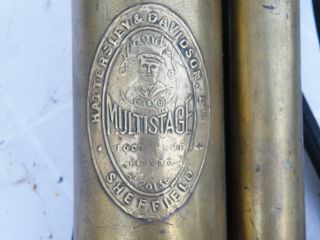 Iím a Chartered Mechanical Engineer, with a keen interest in Britain's engineering heritage, and take great delight in making old pumps work properly. It irritates me if things donít perform as they should and as their designers intended! So I give them a full mechanical overhaul. I also prefer, as do many people, to try and retain their external Ďpatinaí and appearanceĖ as with any old piece of furniture or a picture. Their patina is evidence of years of faithful service and/or being covered in layers of grease for years Ė the best preservative there is! On the other hand, since these pumps are beautiful pieces of engineering and 'works of art' in their own right, some people like them restored to original showroom or concourse condition for display purposes. I do this to many pumps Ė carefully colour matching to original livery and painting with modern paint equivalents - as well as giving them a full mechanical overhaul. So thatís what you get if you buy one of my class I or class II pumps. The detailed job lists which my various classes of pumps go through are available on a separate page. The prices I ask are reasonable, I think, but do reflect the work I put in and the quality of the pump you get.
Gordon Edwards